We are thrilled to share the extraordinary stories of our sponsored athletes, Scott Gregory, Herwin van t Oever, Johan Berkers and his son Hidde Berkers, who embarked on extraordinary journeys and achieved remarkable milestones that touched our hearts.
Scott Gregory, the son of our colleague Alan Gregory, dedicated five months to rigorous training to climb of Alpe d'Huez on June 1st. The arduous climb challenged Scott, but his determination prevailed as he completed it in an impressive time of 2 hours and 5 minutes. Along the way, he had the opportunity to connect with fellow participants and admire the awe-inspiring scenery of the French Alps. The journey proved to be both demanding and rewarding.
Scott was deeply touched by the overwhelming support and enthusiasm he received from the Tembo Group teams. Witnessing the collective effort and meaningful contributions from so many individuals truly warmed his heart. As a result, Scott successfully raised an impressive €1,091 for the KWF!
The week before the Alpe d'Huez, our colleague Johan Berkers and his son Hidde Berkers participated in the "Flevoland Cycles Against Cancer" cycling event to support the fight against cancer. This event was organized regionally and aimed to give students an opportunity to contribute to the cause. It involved multiple high schools and combined cycling with volunteer work.
Despite being just 15 years old, Hidde showed remarkable determination and completed the challenge in an impressive time of 1 hour and 14 minutes. Meanwhile, for his father Johan, the journey held a different meaning.
Starting as a light-hearted joke, Johan took on the challenge with the goal of conquering the "little hill" within an hour. Little did he know that life had other plans. The unexpected loss of his mother and older sister brought forth a wave of emotions, transforming the journey into a deeply emotional one. Despite facing challenges, Hidde's impressive fundraising total of €890 for the KWF, supported by Tembo colleagues, friends, and family, demonstrated the strength of unity and solidarity.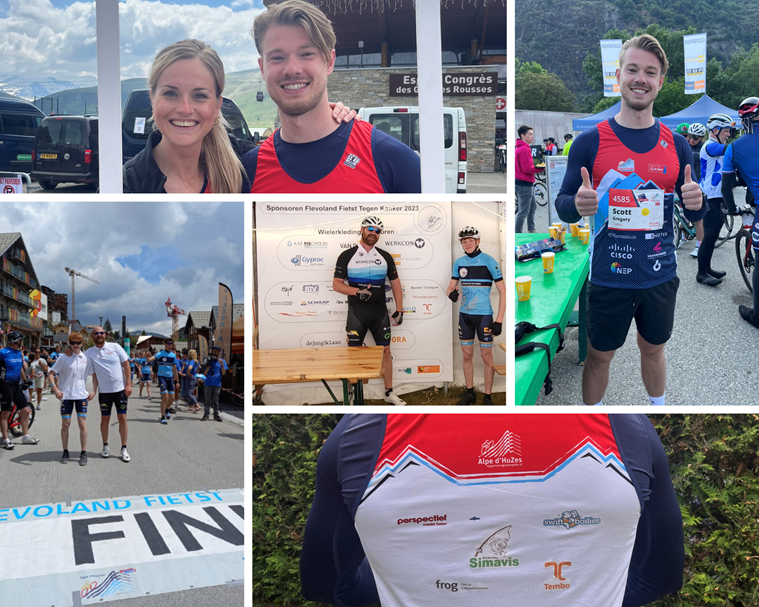 On behalf of everyone at Tembo Group, we extend a heartfelt thank you to every person who played a role in this extraordinary journey and helped Scott, Herwin, Johan and Hidde spread a positive message. Your support and generosity are sincerely appreciated, serving as a powerful reminder that when we come together, we can truly make a difference!