Did you know that 175 billion plastic straws are used in single dose packs?
As it is part of our global pollution problem, Tembo wants to end the use of these single use plastics. Therefore we have invested many years in developing paper straw machinery, working closely together with our partners delfort and Henkel.
As a result, we proudly introduce the first paper based, biodegradable bendy straw for children's drink boxes. It's a major step in our mission to replace 100% of the plastic straws used by the industry.
In this article, we reflect on a recent interview with experts Martin Grandjean (Tembo Paper) and Markus Brunthaller (delfort). 
Interview: A better future with better straws
When the world moves away from plastic straws, delfort, Henkel and Tembo proudly introduce a line of sustainable paper straws that are superior in functionality and - for the first time in history - available in U-shaped and telescopic varieties for children's drink boxes. 
With delfort's paper, Tembo's technology, and Henkel's adhesive, you have created the paper straw of the future. What makes it special?
Martin/Tembo:
"For starters, it is incredibly durable, maintaining its form and functionality for a record three hours in liquids. Remarkably, it is also compostable and soil & marine biodegradable, thanks to delfort's FibreStraw® paper. In our quest to develop the most eco-friendly yet functional straw ever, this paper is vital."
Markus/delfort:
"Indeed! FibreStraw® paper is a true alternative to plastic. It is high-performance, free of toxins, and EU SUP directive compliant. Because our paper is made from high-quality natural resources, it is the best choice when it comes to eco-friendly, biodegradable solutions. Our FibreStraw® paper was recently certified by TÜV Austria, confirming that it completely biodegrades without harming soil and oceans. In the past, some paper straws received criticism for not being stiff enough. How did you perfect the structure and performance of the paper straw?"
Martin/Tembo:
"Consumers like the flexibility and feel of a plastic straw. Naturally, they compare it to the paper straw, which performs differently. We wanted to balance their expectations with sustainability. We developed a revolutionary technology for producing paper straws but required the right partnership to achieve our goal. The magic combination is Henkel's food safe and water-resistant adhesive, our precision technology for applying less glue and producing less waste, and delfort's FibreStraw® paper, which is a marvelous innovation."
Markus/delfort:
"True, it is amazing! One of the secrets to creating the ultimate, environmentally friendly straw is in the structure of the paper. By fusing different types of robust and stable specialty paper, we have a design that is superior in strength, biodegradable, and compatible for all paper straw converting technologies available on the market."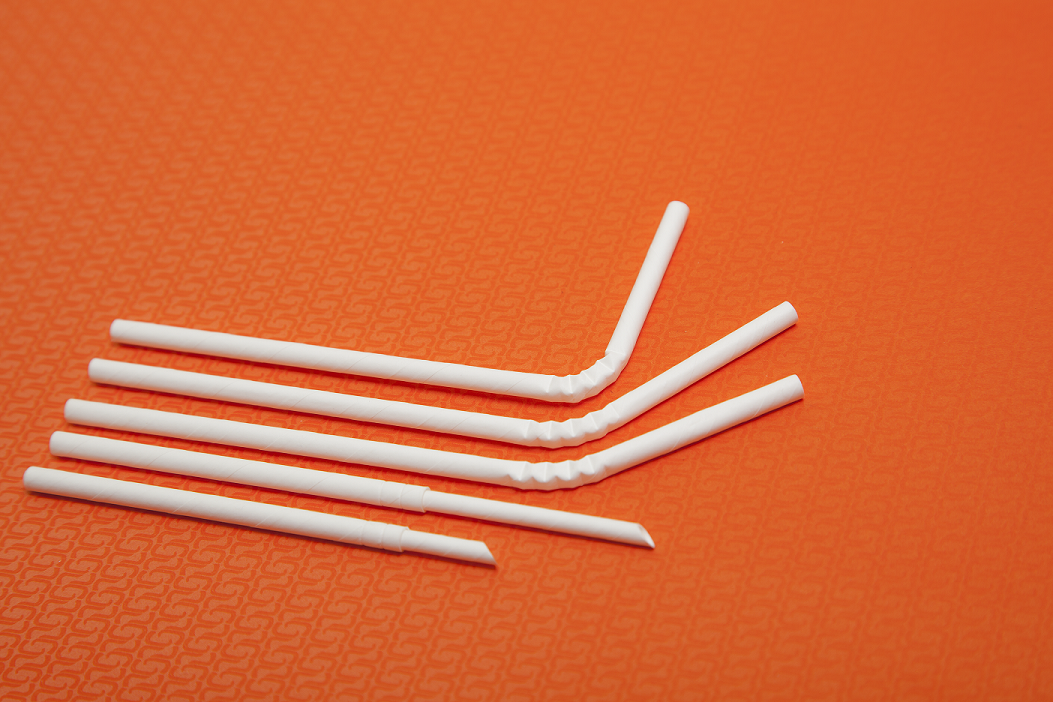 Martin, what is Tembo's contribution to the most sustainable paper straw?
Martin/Tembo:
"Substantially reducing materials and waste production is one of our biggest triumphs. We can thank the compact layout and small footprint of our machine design for that. Precision is key. It allows us to reduce waste levels below 5%, and we are able to apply only 2% adhesive to each straw.
Paper straws are making history as the world shifts away from single use plastic (SUP). What other innovative alternatives to SUP do you have in store for us?
Martin/Tembo:
"U-shaped and telescopic straws! We spotted a need for paper-based solutions in the industrial straw segment, like the small U-shaped and telescopic straws attached to children's juice and milk boxes. Can you imagine what a difference it would make if all those little plastic straws no longer end up in landfills and oceans?
It meant overcoming the challenges of manufacturing the smaller size of 0.29 inches/7.5 millimeters and developing a more sophisticated paper recipe for stronger straws that can prick through the seal of a drink box.
Together with delfort, we did it! Early this fall, we will deliver U-shaped and telescopic straw modules, in collaboration with the leading packaging and packed food companies of Europe. Our technology to sleeve these types of straws is already completed!"
Markus/delfort:
"Indeed, it took a lot of ingenuity and collaboration to make this exciting development work, but that is one of our strengths! Another trend we have noticed is the demand for colorful designs, so we developed the FibreStraw® paper in black. It is silky to the touch, giving drinks the desired look and feel of elegance and sophistication for high-end venues."
Photos by: Daniel Visserman